12th December 2021 - 28th January 2022
Emily Parr & Arielle Walker
Curated by: Andrea Low
Writing: Jade Townsend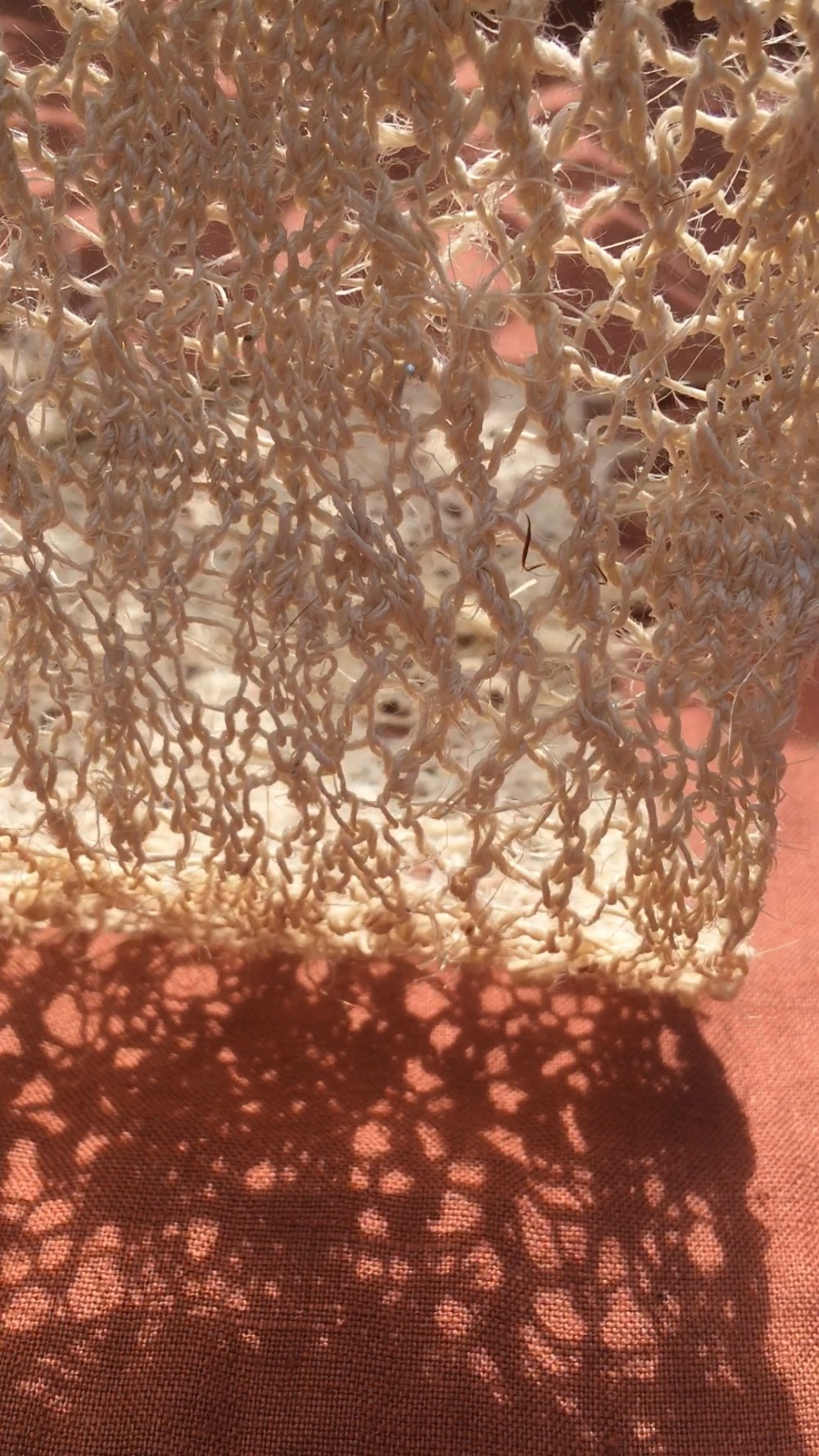 The film-works in ngā rerenga whau follow two lunar cycles in the Maramataka: Mahuru and Whiringa-ā-Nuku. Beginning with the new moons on September and October 7th, Emily and Arielle exchange a video 'letter' on alternating days. Just as the lunar cycle begins in darkness, the exchanges begin without an illuminated pathway; without an expected outcome. As they pass the threads of conversation back and forth, like weaving tukutuku, patterns of spring growth and cyclical processes begin to emerge. The works observe time passing through these rotating cycles and keep two friends connected during rāhui. The seeds sown for journeys imagined over the rāhui continue to bloom in plants gathered from around the Whau during the exhibition, preparing for future dyeing of muka as the seasonal cycles shift again. This muka, extracted from harakeke over many months, will in time be woven into new forms.
These two cycles are spring iterations of the artists' first cycle, tōu tauira me tōu kaiako hoki, made during Haratua for Whānau Mārama, a Matariki project led by Jade Townsend.
Public Program
Feb 17th - March 4th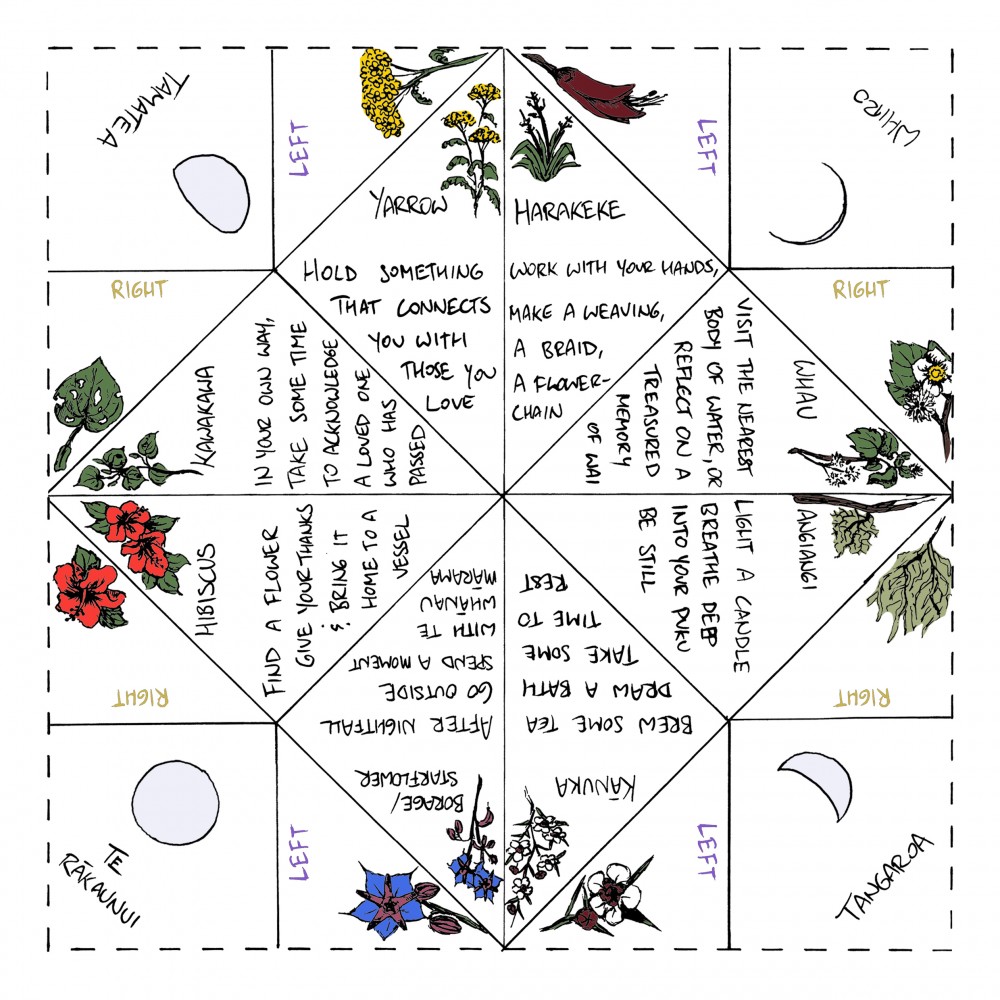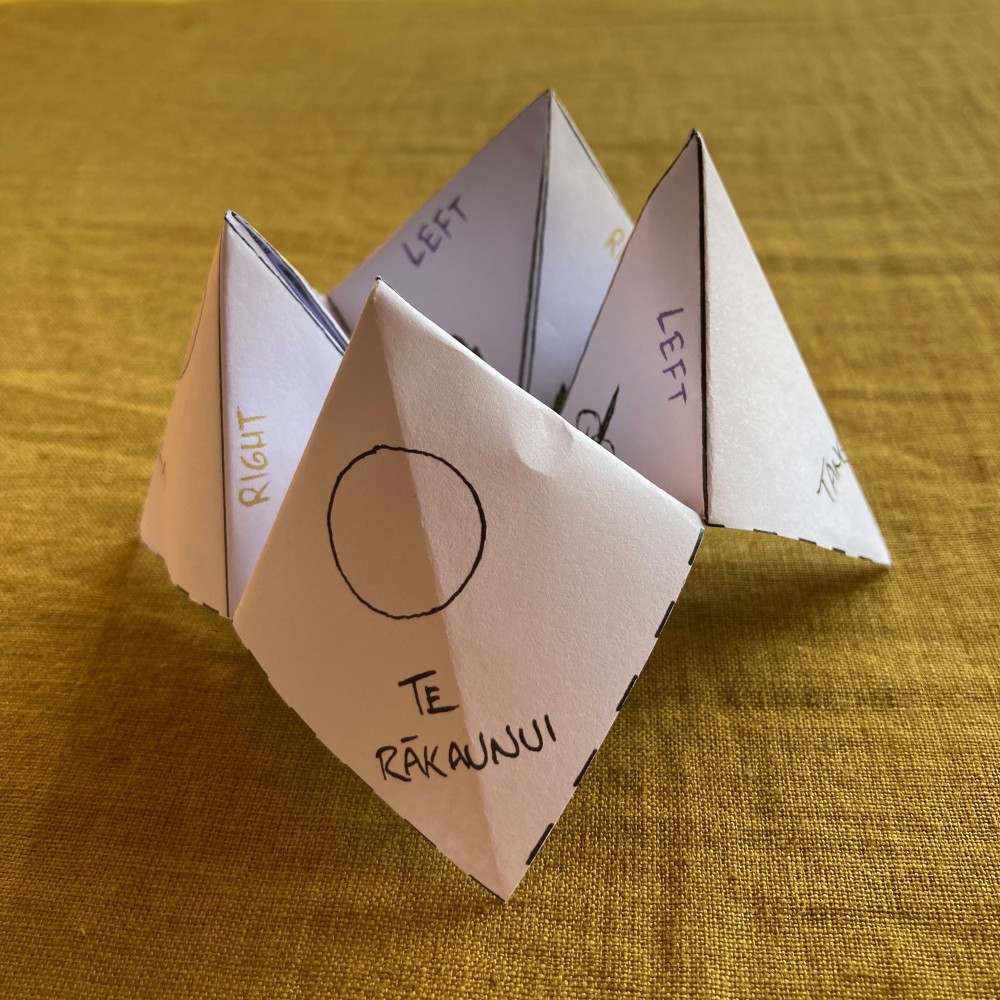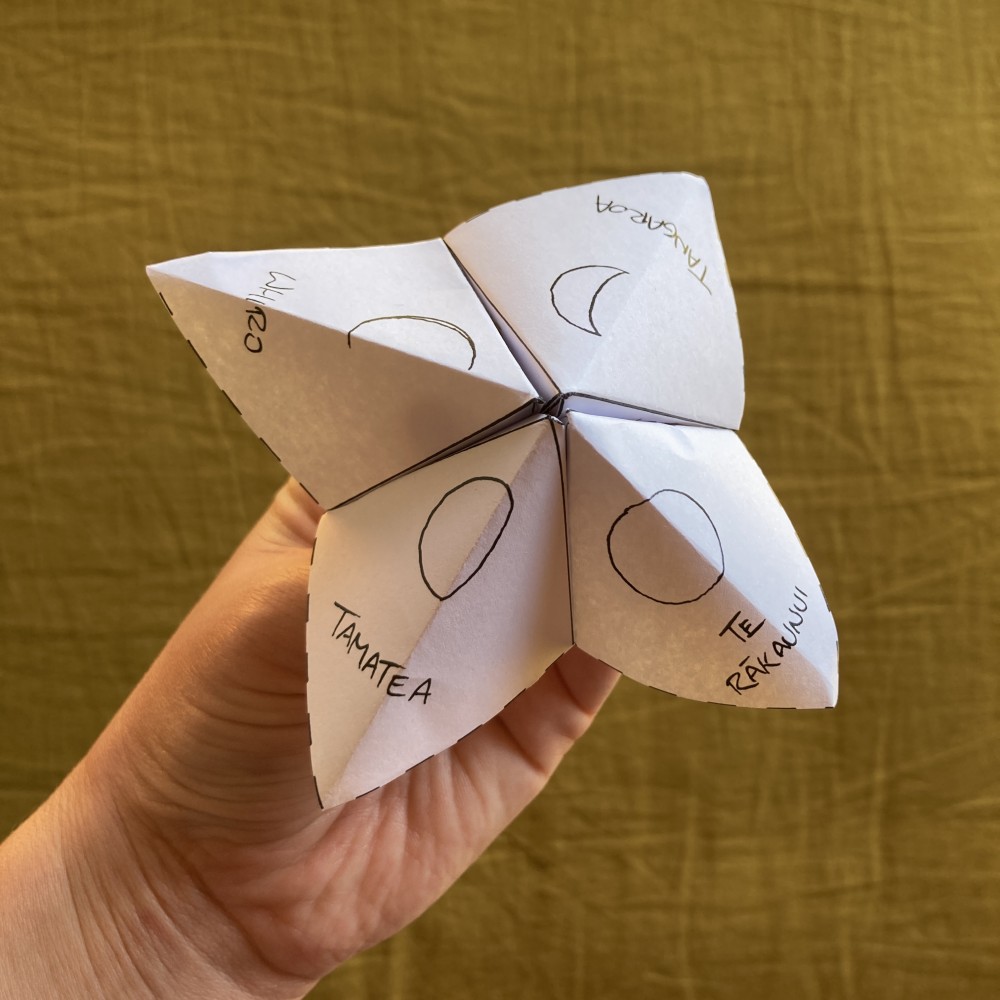 Build your own Fortune Teller
As part of the ngā rerenga whau public programme Emily and Arielle invite you to participate in observing te taiao through an interactive experiment. Download, print and fold their fortune teller exercise to be taken on an exploratory journey through your environment.
Limited Edition T-Shirt Giveaway
We have 25 limited edition t-shirts featuring artwork from the exhibition and hand embroidery from the artists. To receive one of these complementary t-shirts we invite you to participate in an exchange. While undertaking the fortune teller journey, please take a photograph (portrait rather than landscape) and write a brief reflection. The artists will compile the images and text into a zine to be shared with those who participated in the exchange (your contribution can be anonymous if you would prefer).
Send your image, text, address and t-shirt size to aloha@moanafresh.com.
Ts&Cs:
T-shirts will be allocated on a first come first serve basis until March 4th 2022.
To be eligible please use ʻNgā Rerenga Whauʻ in your email subject heading.
Moana Fresh will cover shipping costs
The t-shirts are made to order depending on your size. This means a longer production time, all t-shirts will be shipped from March 25th.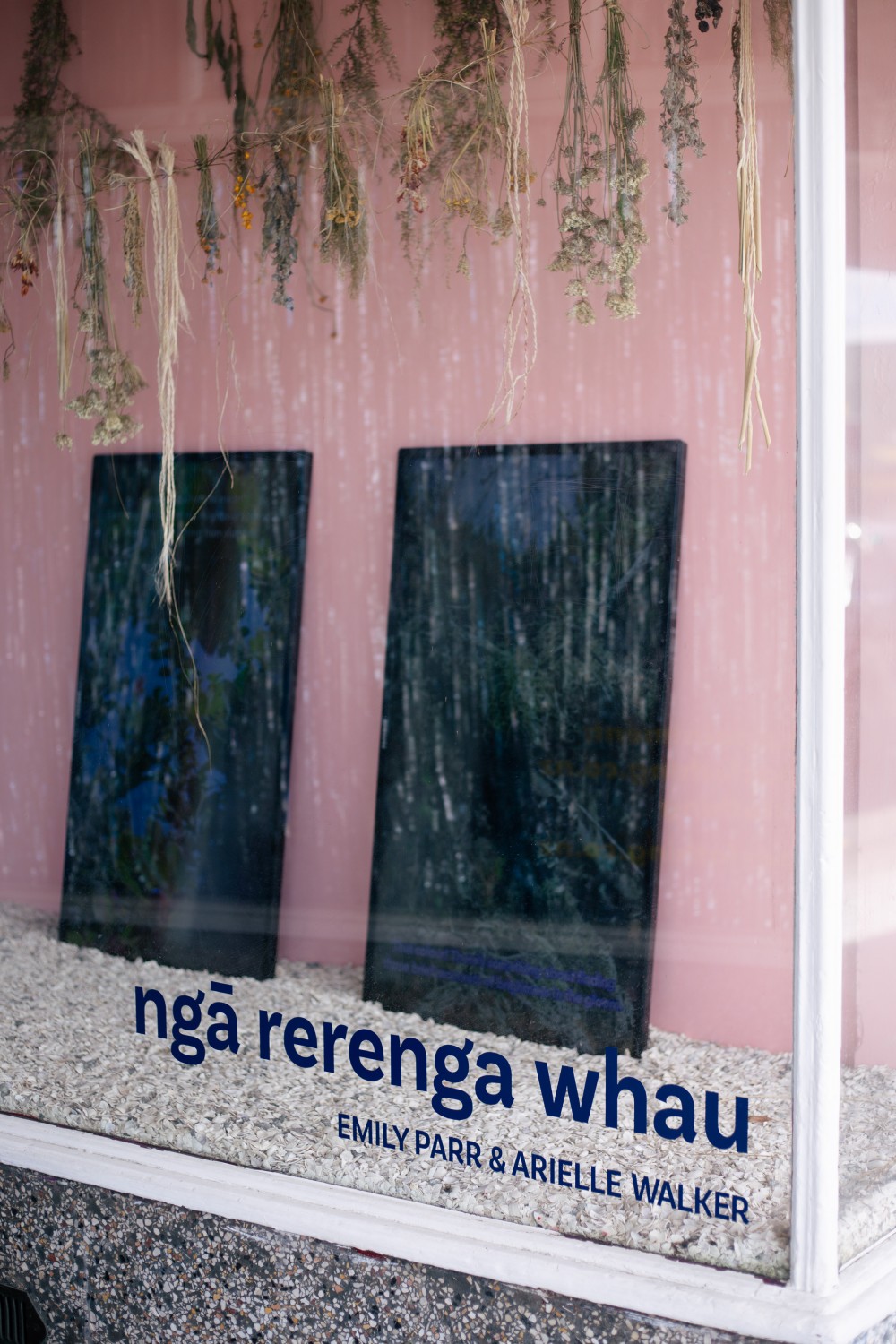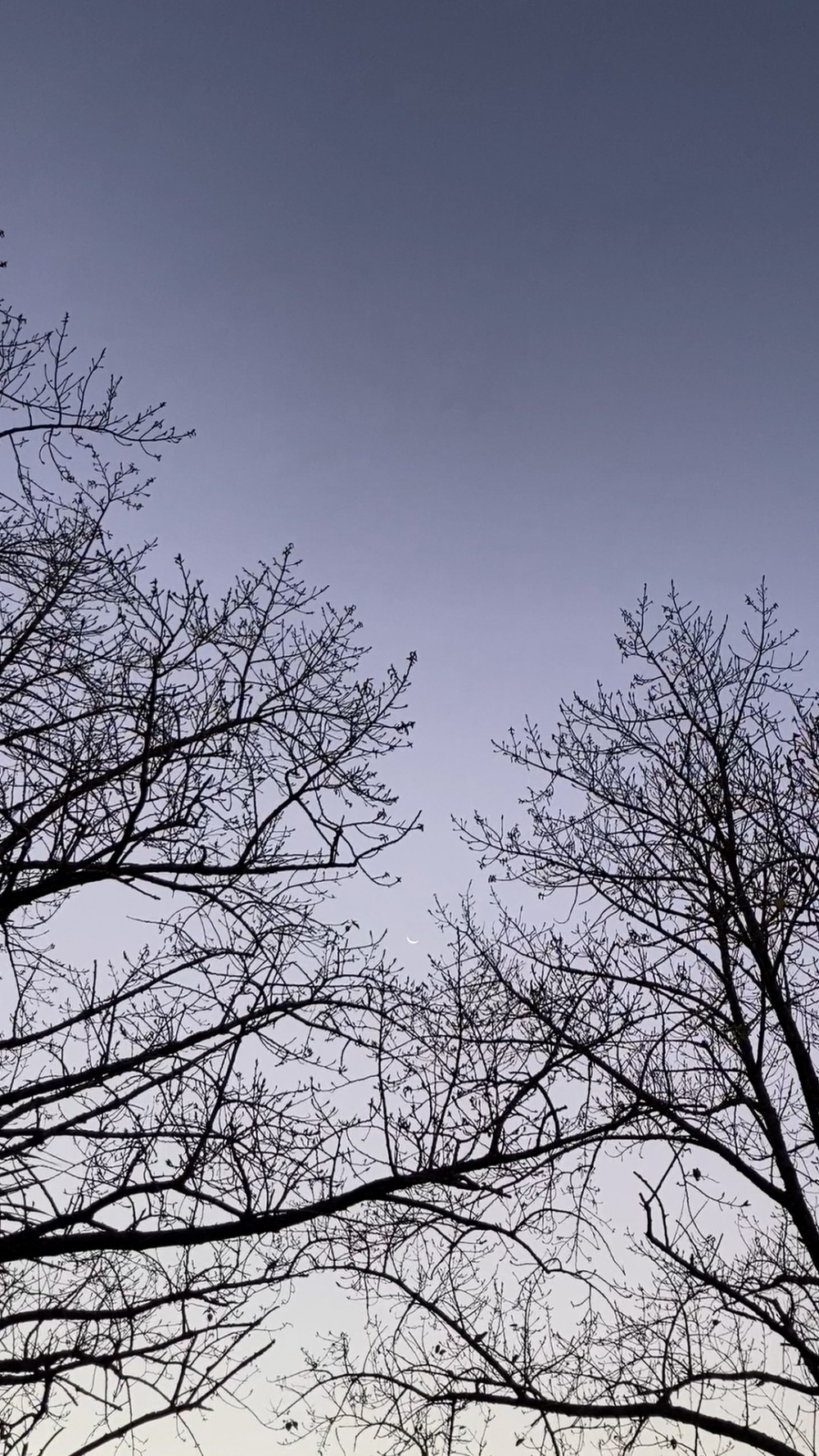 Writers response: Jade Townsend
ngā rerenga whau represents two maramataka cycles as video and text: Mahuru and Whiringa-ā-Nuku. In total they are what I consider the initial chapters of a love story by a pair of gardeners: both the metaphorical and literal sense – seeding, watering and pruning. That which nourishes them while they wait for their celestial forms orbiting above to reunite. Emily and Arielle present themselves as two wāhine bodies facing forwards in a synchronised nau mai to their main characters: te marama, whetū, Te Moananui-a-Kiwa, muka, harakeke, buttons, a locket and so on.
It is day 101 of lockdown when I experience their work in its digitised form sent through email, stripped raw from the warmth that I know these artists wrap around everything they do IRL. The second still appears in Mahuru, a common and earnest lapping shoreline and I'm reminded of a feeling that I have oppressed this whole rāhui: that I have someplace else to be. We all have someplace else to be.
The moon phases make their fleeting guest appearances. I reimage them, with absolutely no truth to go on, as faces which might have ordinarily been cast in the artists' Level One lives. A friendly bus driver as the full-moon, the grumpy university administrator, as whiro. I realise that I could superimpose myself, adopt a name from their script like kānuka or tūī. Because while the images are undirected and open-ended, the written entries that accompany them are anchored in control and resistance. That's what text does. I think about these intentions and a pukapuka comes to mind – Letters to Milena, a collection of writing sent between Franz Kaftka and Milena Jesenská, a translator who was reinterpreting The Stoker from German to Czech. It was in documenting the details of everything or anything and sending those observations to each other that the physical void between them shrank. The enormity of time spent apart now made full, not with a range of time fillers but with the only quality that makes time spent complete – that quality is love.
I've decided to be the starflower. It's an aspirational role. 'Aster' as it is also known, became a symbol of love when, in Greek mythology, it was placed on the altar of the gods. We now know of it's soothing and healing benefits extracted through the seed oil. I believe Milena is a starflower too.
Unlike Emily and Arielle, I am not faced by te marama or a garden of blooms but instead three screens, one of the video work, one of my word doc and the last an open research page, wikipedia.org/wiki/Borage aka 'starflower'. In the history section I read: "Francis Bacon thought that borage had 'an excellent spirit to repress the fuliginous vapour of dusky melancholie'." Somehow, in the final act of Whiringa-ā-Nuku I am no longer alone, apart, or in rāhui, there is no place-else I am meant to be. I'm in a theatre with the ancestors of gardeners and healers, artists like Bacon and writers like Kafka, translators like Milena, a bus driver, an administrator, the moon and the stars all facing forwards in our love for our main characters Emily Parr and Arielle Walker. Mauri ora.
Jade Townsend
Ko wai Mātou? (Biographies)
Arielle Walker (Taranaki, Ngāruahine, Ngāpuhi, Pākehā) is a Tāmaki Makaurau-based contemporary artist, writer and maker. Her practice seeks pathways towards reciprocity through tactile storytelling and ancestral narratives, woven roots and botanical belongings. Her current doctoral research picks up threads from her Master's research, looking to the pūtahi — moments of convergence and relational exchange.
Emily Parr (Ngāi Te Rangi, Moana, Pākehā) is an artist living in Tāmaki Makaurau. Her moving-image practice weaves through time and space, exploring systems of relation emerging from Te Moananui-a-Kiwa. Emily's recent Master's research on settler-indigenous relationships, traverses oceans and centuries, seeking stories in archives and waters on haerenga to her ancestral homelands of Tauranga Moana, Sāmoa and Tonga. Her doctoral research considers the responsibilities she has inherited through her ancestral legacies and, in particular, to her family's collection of taonga and measina held by museums.
Jade Townsend (Ngāti Kahungunu) is a writer, artist and facilitator working at the intersection of her Māori, Pākehā and British heritage. She was born and raised in Whanganui before moving to Liverpool where she lived as a teenager. Townsend's exposure to a wide range of accents, dialects, regional slang, folktale and pūrākau made her aware of the limitations of translation and cultural hybridity as a completely transparent process. Recent projects include facilitating Whānau Mārama at Commercial Bay and Hauhake at Objectspace. She has been awarded Artist in Residence at Artspace Aotearoa, Caravannex at Objectspace, Slade School of Art in London and Red Gate Gallery in Beijing.
Andrea Low is a curator, writer and artist. Andrea traces her moʻoku'auhau to the ahupua'a of Kahana on the island of Oʻahu, Hawaiʻi; to the village of Fasitoʻotai in Samoa; to Tongareva/Penrhyn, Fanning Island and Fiji. Andrea has ties to both Ayr and Argyle in Scotland and these entanglements of history, identity, biography and place are central to her approach to art, narrative and curation.
Sita Narsai is a graphic designer born, raised and educated in Tāmaki Makaurau. Her family immigrated to Aotearoa from Gujarat India before Partition. Sita has worked with leading brands and businesses across New Zealand and the United Kingdom - visually telling stories through creative thinking and design.