//php snippet('back-button') ?>
Moana Makers Tools for You
Tools for You provides information to support emerging and established Moana Makers.
Who is Hina Kneubuhl?
Hina Puamohala Kneubuhl was born and raised in Kula, on the island of Maui in Hawaiʻi. She has whakapapa links to Hawaiʻi from both her parents, and to England, Scotland along with the villages of Tutuila and Salaʻilua in Samoa. A kapa maker, body surfer and mother to two daughters, Kneubuhl and her husband (who has whakapapa to Te Arawa and Tainui) have spent time between Aotearoa and Hawaiʻi, living in both countries.
She studied and received BA degrees in both Botany and ōlelo Hawaiʻi (Hawaiian language) and holds an MA in ōlelo Hawaiʻi. From specializing in working with endangered Hawaiian plants, to teaching ōlelo Hawaiʻi at UH Mānoa, Kneubuhl says of her work, "there are parallels in the endangerment of Hawaiian plants, people, and practices".
About the Business:
Kealopiko
Kneubuhl is one of three business partners/friends, who came together in 2006 and founded Hawaiʻi fashion label Kealopiko, 'Styled in Hawaii nei'. Hina alongside Ane Bakutis and Jamie Makasobe have nurtured and slowly expanded Kealopiko over 16 years together, with the support of their communities and loved ones. Kneubuhl says the business started as a side hustle and has since grown to overlap other areas of her life. None were clothing makers when they began their journey as businesswomen. Today, the business is thriving and includes a storefront located in Honolulu, an online store, a workshop, and an employee base of 17 wahine.
Drawn from the language of Hawaiʻi, the name kealopiko is a homage to the relationship their kūpuna (ancestors) had with the ocean. The alopiko is the highly desirable belly section of the fish. Like all indigenous languages, their name has alternative interpretations: the piko, (center or point of connection), on your alo (front of your body), connects you to your loved ones and to living in the present moment.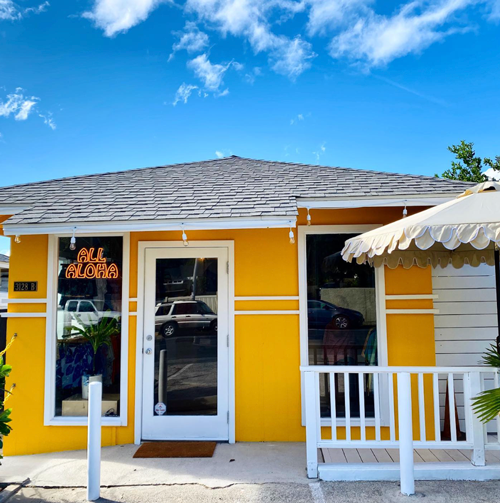 What Makes Kealopiko a Kaupapa Led Enterprise?
Kealopiko has used their website to communicate the mission clearly:
"This land and its people made us who we are today. Knowing this at the outset, it has been part of our mission from day one to give back to our community."
Kneubuhl shared with us how important it was to have an Indigenous business anchored in whanaungatanga. The partners and their decisions are intimately linked with their environments - their business is "simply the vehicle to tell the stories of who we are as a people". ʻOhana (family) is central to how Kealopiko operates and is a pillar for the business as it experiences growing pains every few years or so. What has helped the businesswomen to stay focused on their mission and ensure a 16 years-long existence, are the roots of their origin. Kneubuhl says "it needs to come from a base of values… To me the origin of [an Indigenous business] needs to be rooted in a connection to things greater than yourself, like your kupuna (ancestors)".
The kaupapa of Kealopiko is reciprocal, seeking to honor the land, their Indigenous history and to provide education and jobs for other Hawaiians. "We work for our people because they are who support us" Kneubuhl says. "Every season, they come out, they buy our clothes, they mahalo the stories that we're telling, and like that we don't work for a corporation overseas." Kealopiko's line of All Aloha garments is locally sewn, designed, dyed, printed, and sold. Their knitwear line is produced in LA and uses organic cotton exclisively, and a limited amount of recycled polyester.
Kealopiko is a business of active resistance: "In Hawaiʻi, because tourism is such a big thing here, there's this veneer over everything of hibiscus, plumerias, gingers and non-native tropical flowes. There's this imagery portrayed with tourism that is used to package and sell our culture and place to outsiders for profit, the bulk of which is siphoned out by hotels and corporations that are not based in Hawaiʻi," Kneubuhl says. "To push back on the narrative of what is Hawaiian and the idea that we depend on outside corporations for survival is also a huge part of why we do what we do."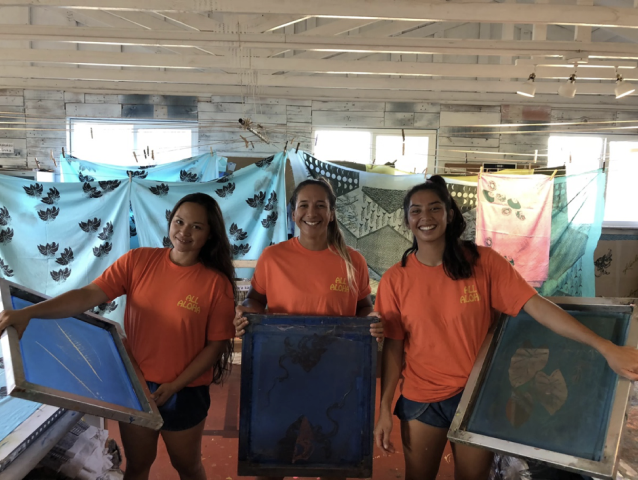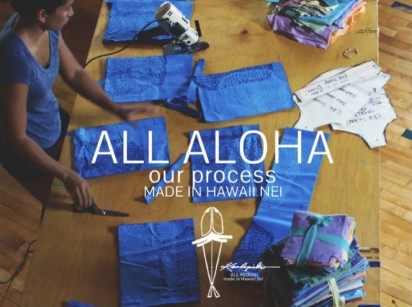 Hina and Kealopiko
Kneubuhl's key role in Kealopiko involves extensive research to provide consistent and reliable information across their product designs. She uses ʻōlelo Hawaiʻi (Hawaiian language) and storytelling to share this information with their people, in ways that are creative and accessible. Some of this looks like:
• Researching Indigenous stories from archival Hawaiian-langauge newspapers
• Transcribing and translating recordings of native speakers and sharing this information with their community via their website
• Generating engaging content in celebration of Mahina ʻŌlelo Hawaiʻi (Hawaiian Language Month)
• Writing the unique moʻolelo (story) tags found on each item of clothing, telling the story of the design by centring the Indigenous language and history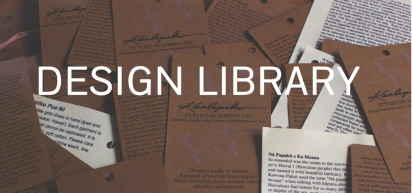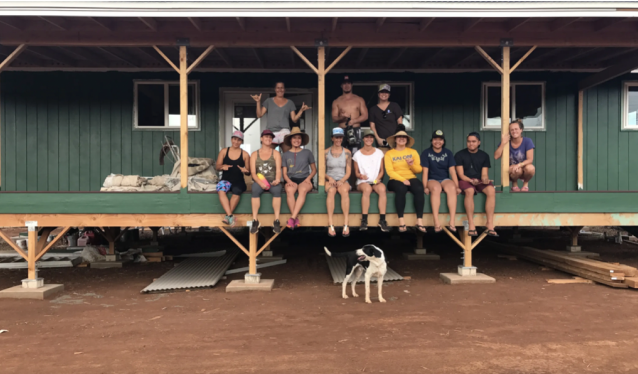 Key Advice to Moana Fresh
"Our mission is a guiding star- we always have to look at it to keep on course."
• Starting a business as Indigenous people often means spending time in something that feeds your spirit.
• Revisiting roles and responsibilities regularly are key to keeping the mission - the core flame – alive and burning. Constantly checking in with one another's capacity and asking: What are we feeling? What's going on within our staff? What do we need to discuss? Where is our energy best placed?
• You don't want operations to suck all your creative energy and get you down. Your team needs to carve out and make time to think, create, innovate, discuss – especially as creative people. (Hina shared with us how kapa or tapa making is a huge release for her.)
• Find balance - everybody in your team must be committed to the balance and reminding each other of this.
"It was important to stand on our own and not rely on outside funds."
• In 16 years, Kealopiko has never had any outside investors or government funding except for a few grants to survive through the pandemic.
• Hina and her fellow business partners have been very conservative financially. Any profit that is made is reinvested back into the business. "We pay ourselves for sure, as owners, but we don't make six figure salaries. All of us still have second jobs. And that's not always an ideal scenario, but it does feed back into what we do at Kealopiko."
What is the lifestyle that you want that will allow you to still be a contributor to Moana Fresh? (Question aimed at Ahi). Is it better for you to have creative time? Would it nurture you? Can you make that shift?
• Define what being whānau centered as a business looks like. It can be reflected in your work hours and offering the ability to work remotely.
• What is business sustainability, for YOU? It can mean not forcing ourselves into a corporate 9-5 structure and allowing ourselves to create new models that resonate with who we are culturally.
• Business partners all have different energy levels and rates of generating. This HAS to be okay with everyone! There must be understanding amongst your partners. Know yourself and your limits and don't ever feel guilty or feel terrible for not taking on more, or for setting boundaries. If it doesn't work for you - that's okay.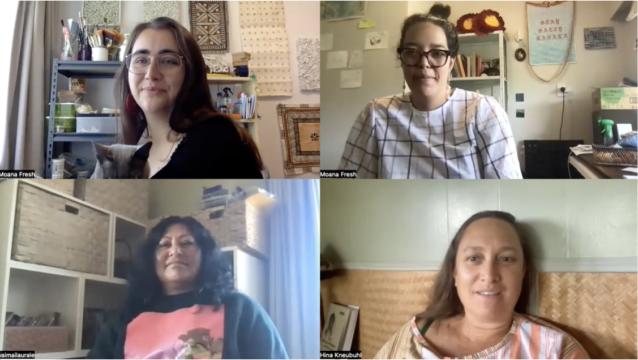 Broader Advice to the Public
"I'm not interested in being involved in anything that isn't pushing the survival and perpetuation of our ancestral knowledge and practices into the future."
Reinvesting into your community is the motivation – profit is secondary. It's important to make your business sustainable for you.
"I think part of the maturing process is realizing what you are good at, and what you aren't good at, and checking your ego and putting it aside."
Find the best lane for your abilities and what you are good at. Trying to force things or feeling bad about not being good at some business responsibilities is just a waste of time.
If you value your customers, it's worth having price points across the board so that everyone can afford something. People will also pay for a product if they want it and if they know your story and who you are.
Conflict and Communication
"Get creative with how to work around problems. Ask for guidance - ask your kūpuna. 'Tell me what process is going to work this through without unnecessary tension.' Or 'What process is going to work for us?'"
Be strategic with communication. Sometimes we want to spit it all out and that might not be the best thing. Sometimes communication requires delicacy.
The aloha that you have for each other must take precedent. What do I preserve? Is the relationship more important than the business or vice versa?
An organizational corporate model
"You don't have to form a corporate model that doesn't align with who you are. Take some aspects and carve them into a shape that fits and then go – okay great we can use this tool to help us stay on course. We can refashion it. Bring in what works!"
Final Words from Hina
"Create workspaces where we can thrive! Create the spaces and lives that we want to live in… We are part of a larger collective of wahine from Te Moana Nui A Kiwa, trying to lift our people and tell our stories. It feels like we are constantly trailblazing and it's not always easy. But, you know in your naʻau (heart), it's the right thing to do. Trust yourselves and where you seek inspiration and guidance from. ʻOnipaʻa (stand firm) in the decisions you make. Ground yourself in the values of aloha and ʻohana. Ask your kūpuna and you'll make good decisions to weather any storm. Lean on each other and lean on your values."