//php snippet('back-button') ?>
Moana Makers Tools for You
Tools for You provides information to support emerging and established Moana Makers.
Who is Behind Lagi-Maama?
"The concept and practice of what is known in Samoan as 'soa' and in Tongan as 'hoa' refers to the inseparable but indispensable pairs of equal and opposite binaries that are imbedded in the realities of our Moana Oceania ways of knowing, seeing, and doing."
– 'Talking Critically Yet Harmoniously' by Lagi-Maama Academy and Consultancy, 2021.
Kolokesa Uafā Māhina-Tuai, of Tongan heritage, (Tatakamotonga and Tefisi in Vava'u), and Toluma'anave Barbara Makuati-Afitu of Samoan heritage, (Safotu and Lefaga) are the founders of Lagi-Maama Academy and Consultancy; championing Indigenous cultural knowledge. Based in Aotearoa, the pair formally launched Lagi-Maama in 2018 soon after meeting through Tāmaki Paenga Hira's 'Pacific Collection Access Project' which ran from 2016 - 2019.
Māhina-Tuai is a curator and writer, with a background in Social Anthropology, Art History along with Museum and Heritage Studies. Her research explores the history of Tongan crafts and she has worked across a wide range of curatorial projects and community programmes including at Te Papa Tongarewa and Tāmaki Paenga Hira. Māhina-Tuai has a number of selected works such as 'Tangata o le Moana: New Zealand and the People of the Pacific' and 'Crafting Aotearoa: A Cultural History of Making in New Zealand and the Wider Moana Oceania'; both of which she co-edited alongside peers. Earlier in 2022, Māhina-Tuai was appointed a Member of the New Zealand Order of Merit, for services to cultures and the arts.
Makuati-Afitu has an extensive background in community engagement and stakeholder management and has a history of working at Tāmaki Paenga Hira.
About the Business:
Lagi-Maama
"Where there's a knowledge gap, we are there."
Lagi-Maama Academy & Consultancy (Lagi-Maama) is a cultural organization that act as mediators between instituions and our Moana Oceania communities. In talanoa with Moana Fresh, the pair described the nature of the work they do: "we create, morph and make things fit into spaces they traditionally don't."
For the duo, this can look like:
connecting and building bridges between institutions and communities through research and writing
• community connection and engagement
• curatorial advice and critique
• capacity and capability building
• cultural intelligence and cross-cultural approaches
Central to their work is privileging Indigenous ways of knowing, seeing, and doing – and, essentially filling in the knowledge gaps that exist within institutions, because of their colonial foundations and system biases. Lagi-Maama truly recognizes the value of our people, by amplifying the voices and practices of Moana Oceania communities, from the homelands to the wider diaspora. Lagi-Maama are certain that their business is catering to a problem that threatens to silence and ignore the people behind Indigenous practices and methods. Māhina-Tuai says, "Cultural institutions, you have a major knowledge gap in your fale."
The name of the business was gifted by Hūfanga-He-Ako-Moe-Lotu Professor 'Ōkusitino Māhina. It honours their service towards Moana Oceania peoples, mirroring the foundation of Indigeneity and business approach, while symbolically acknowledging ancestral lineages and connections in an authentic way.
Lagi = symbolically means Sāmoa and literally means sky. It is linked to the realm of heavenly, godly or divine beings. It also references the future and is associated with taboo and chiefliness.
Maama = symbolically means Tonga and literally means lights. It is linked to earth and the domain of earthly, humanly or secular beings. It also references the present and associated with enlightenment.
Pulotu = symbolically means Fiji. It references the past and is regarded as the ancestral homeland and after-world of the peoples of Maama (Tonga) and Lagi (Sāmoa).
From their website, https://www.lagi-maama.com/

What Makes Lagi Maama a Kaupapa Led Enterprise?
"Are we there yet? Hell no!"
• One of the core values for Lagi-Maama is to embrace and be empowered by our Indigenous knowledge and practice of talanoa or "talking critically yet harmoniously." A decision-making philosophy that helps to refine creative and innovative thinking throughout our wider Moana Oceania region.
• Lagi-Maama draws on knowledges and skills from our ancestors, passed down through generations. "It is the collective inheritance of our own bodies."
• Lagi-Maama's approach is informed by this sense of the past, present, and future. It is their foundation and has allowed the company to be time-space travellers, "enriched not only by the knowledge and practice of our ancestors, but also by what we learn from each project that we work on."
Key Advice to Moana Fresh
"Being able to go to sleep at night, just knowing that you've done as much as you can, but also being okay with the fact that you can't do everything."
Lagi-Maama shared with us the struggle with balancing their many hats – from being present for family, to funding applications, to scheduling, to the various community collaboration projects they have on and must be present for (all at once too!) The duo is so used to handling everything without thinking of "all of the other things" and find that as the years pass for their business, they are still learning as they go. "There's the joy of so many - just the most incredible things happening," Makuati-Afitu says. "But it's you know… also that balance that's hard."
Lessons from the Accountant
"I think that was one of the biggest lessons that he's kind of given us is to value us."
Makuati-Afitu's brother stepped in as the businesses accountant, and has been offering reminders of worth and words of encouragement since. He's encouraged Lagi-Maama to put a value on the time that they put in and how much time is being invested – especially as both are proud Moana Oceanian women who give so much. "He gave us his template. And it was like, every project you guys got to do this for yourselves. Be brutally honest. List every single stage that you do and put real time against them… Reality is a punch in the face. Because we were basically doubling real time!" Lagi-Maama encouraged Moana Fresh to do the same after pointing out the difficulties in navigating such work – "but you got to balance it out before with other values that you guys have as well".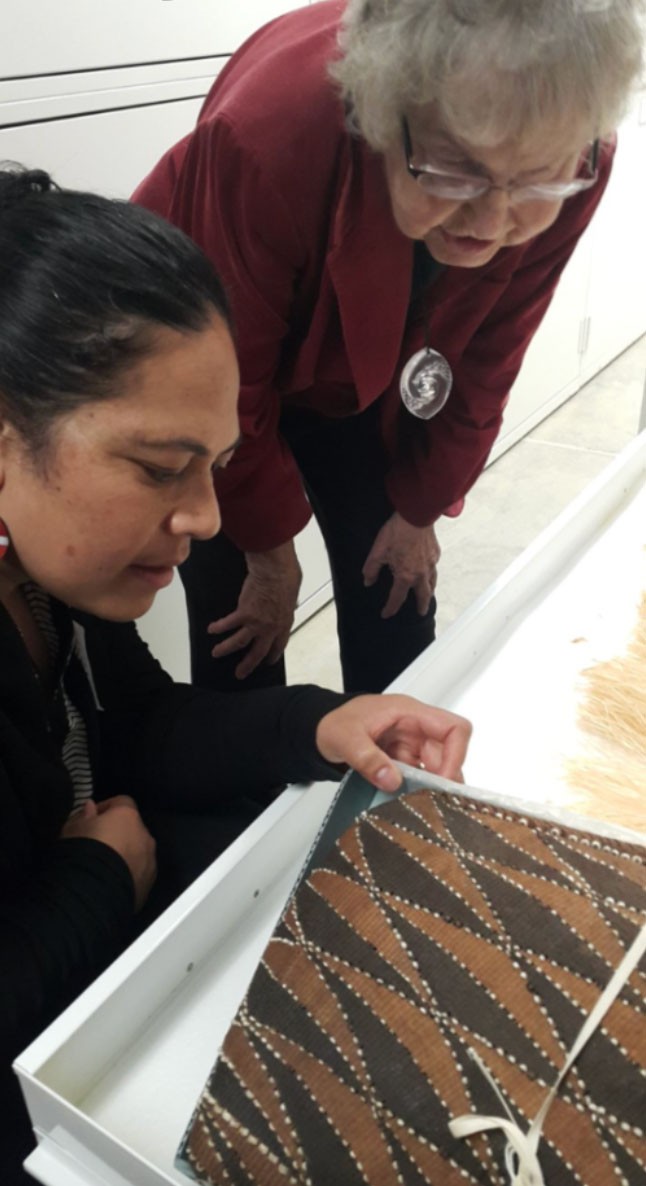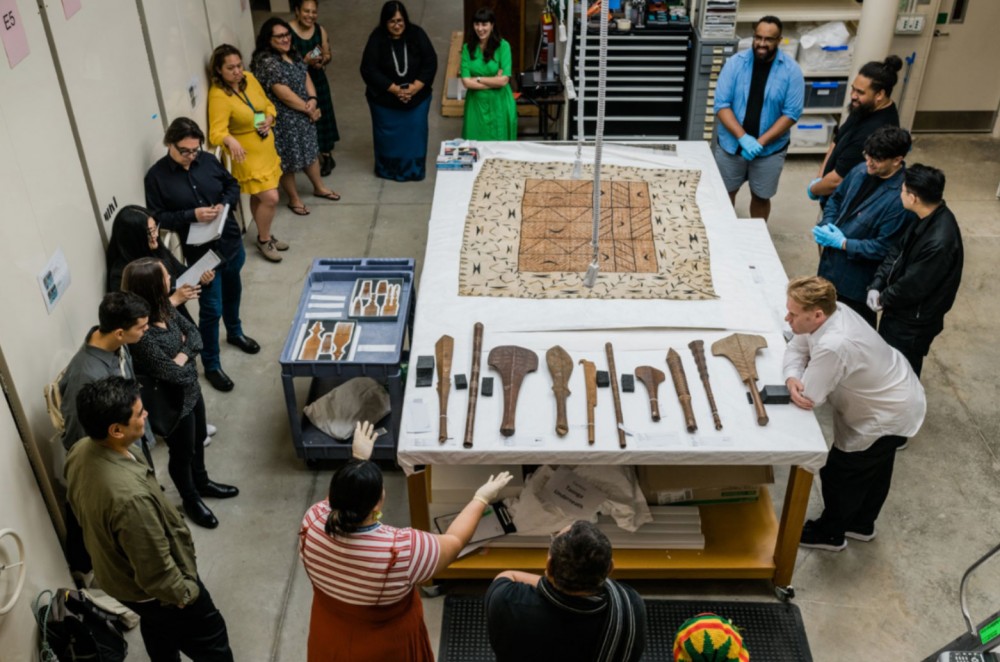 Broader Advice to the Public
Upholding Responsibility to your Communities
"We live and we are within those communities, we're not separate. We work for them first and foremost because it carries so much more outside of these [institutional] fales and beyond."
Through seeking to renumerate cultural knowledge holders for their work, Lagi-Maama want Indigenous knowledge holders and makers to be valued equally and equitably in the way that knowledge holders and makers from an academic background are. "We genuinely connected over a talanoa around remuneration for our holders of knowledge, community elders, ontologists and epistemologists, who we (under the umbrella of Tāmaki Paenga Hira institution) wanted to engage with, for their knowledge and expertise to enhance the museum's records." Lagi-Maama says. "This amazing initiative by Tāmaki Paenga Hira, called the Pacific Collection Access Project (PCAP), was brokering new ground for the museum sector in acknowledging that knowledge and expertise of its collections was also held beyond their walls and within and across our living communities. We, as a Samoan and Tongan working in the museum at the time, also had a responsibility to our communities to ensure that the museum understood the sacredness that was being negotiated. Therefore, it was crucial for us to negotiate a remuneration."
"Stick to the issue and remove emotion so people don't pull you up on being emotional. Stick to the facts and address the issue because that's how you can come up with change and really pick at loopholes."
Lagi-Maama has only been around for four years but the work they have achieved has been hugely significant in shifting culture and challenging the status quo. The pair informed Moana Fresh and other entrepreneurs with similar values that being willing to challenge structures and systems, is a step in the right direction. "Be transparent" Makuati-Afitu says. Lagi-Maama reminded us that we need to be confident in our challenges and remove emotions where necssary. "Be open about how YOU want to do it and what YOU think is best. Show how it should be done with our communities."
"We've got our own cultural institutions of learning and [and this tufuga we've engaged] has an equivalent of a PHD to you. We can't undermine [how] that knowledge is key. For example, within the Samoan context for example [talanoa with our tufuga] is our institution of learning. Unless we get that out there, the people with [that academic] piece of paper….we are realising – those people just don't know. These institutions don't have that [cultural] knowledge in order to then value it."